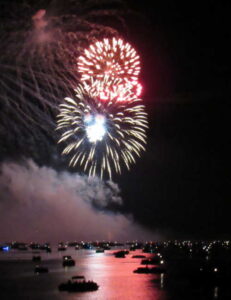 It's hard to believe that it's almost the holiday weekend! Please see below for important information for use of
the Lake:
Holiday Schedule for July 4
These rules shall apply from 6 p.m. the night before until midnight of July 4.
Water Skiing/Tubing hours:
Sunrise – 10:00 AM
12:00 noon – 2:00 PM
PWC hours:
2:00 PM to ½ hour after sunset or 100 yards visibility
Sailing hours:
Organized or scheduled racing
8:00 AM – 12:00 noon
Wake surfing is not allowed on weekends or holidays.
***NOTE***
For the holiday weekend, no vessel shall pull more than one skier/tuber (3 pt violation). This applies
to the entire Holiday weekend – Saturday, 7/2, Sunday, 7/3, and Monday, 7/4.
Gas pumps will be open 10 AM – 6 PM the entire holiday weekend.
Have a safe and happy holiday!
Lake Lotawana Association